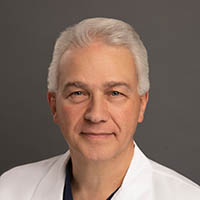 Andrea Natale, MD
TCAI Executive Medical Director
A global leader in electrophysiology, Dr. Andrea Natale is a dedicated clinician, researcher and academician.
Dr. Natale, an Italian native, pioneered the use of ablation to treat atrial fibrillation (AFib), and he performed the procedure on the world's first five patients. Dr. Natale was also the first electrophysiologist in the U.S. to perform a new type of AFib ablation designed especially for patients for whom conventional ablation fails.
A committed academician, Dr. Natale's faculty positions at a variety of prestigious universities include Duke University and Stanford University. He has been an invited lecturer at more than 200 symposiums and conferences around the world, and he is the author or co-author of hundreds of published articles on pacing and electrophysiology. In addition to serving on the editorial boards of numerous medical journals, he is editor-in-chief of the Journal of Atrial Fibrillation.
Continuously focused on innovations in AFib treatment, Dr. Natale's life's work is to benefit patients' quality of life through emerging cardiac technologies.